On the Benefits of a Business Education
Russell Ackoff
, a pioneer of management education, retired as Professor at the Wharton Business School, he was asked
what were the benefits of a business education
. With savage irony he replied that
there were three
.
To equip students with a vocabulary that enabled them to talk with authority about subjects they did not understand.
In 1986, when
There's Nothing Wrong With You
We all do it. It's almost ingrained in us. We focus on the bad things people have said about us. The bad things we have thought about our self. In those words we see areas for improvement. Areas we can work on to be a better and happier person. We have been taught that the key to achieving our goals is improving on our weaknesses.
Innerpreneur Spotlight: Tara Russell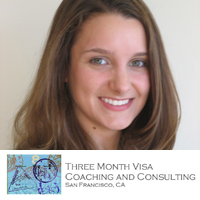 Tara Russell Follow Tara on Twitter Life Sabbatical and Long-term Travel Coach Three Month Visa Coaching and Consulting
I am:
A Life Sabbatical / Long-term Travel Coach
based out of San Francisco, California. As the Founder and President of
Three Month Visa Coaching and Consulting
, my mission is to empower my clients to change their lives (and ultimately the world at large), through meaningful international travel and volunteer opportunities.
30 Unanswered Questions
Dave Pollard
author of the blog,
How to Save the World
. He got the idea from
Beth Adams
. Basically you
sit for half an hour and write 30 thoughts/questions that enter your mind
. It's a fun exercise but beyond that I'm not sure what value it creates. I wrote my questions over Pho at my neighbourhood Vietnamese restaurant.
What is the line between empathy and judgment?
I got the idea from
Shoot First, Think Later
creating the design before writing the content.
How often is a movie filmed without first writing a script? How often is a book jacket designed without first writing the content? A website is no different. It tells a story. One of the most common mistakes I find business owner's make in their website development is