Innerpreneur Spotlight: Tara Russell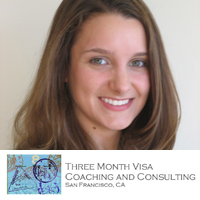 Tara Russell
Follow Tara on Twitter
Life Sabbatical and Long-term Travel Coach
Three Month Visa Coaching and Consulting
I am:
A Life Sabbatical / Long-term Travel Coach based out of San Francisco, California. As the Founder and President of Three Month Visa Coaching and Consulting, my mission is to empower my clients to change their lives (and ultimately the world at large), through meaningful international travel and volunteer opportunities.
I work with a wide variety of clients including executives, entrepreneurs, people preparing to travel, work, study, volunteer or relocate abroad, international expatriates, travel writers and photographers and returning Peace Corps volunteers.
My passion is for:
Working with clients who dream of "taking time off", whether that means a career sabbatical, a spiritual sojourn, an extended global vagabonding experience or just a self-designed "gap year".
Travel as a vehicle for personal growth, learning, self-awareness and fulfillment.
The global community; encouraging and fostering cross-cultural communication and understanding.
Coaching people who long to escape their cubicle and strike out to discover the world on their own terms.
My business helps you with:
Setting aside "maybe someday" and "what if" so that you can start living the life you want NOW.
Trusting your own truth enough to live a life based in it.
Getting out of your own way; realizing the dreams you have been leaving dormant on a shelf.
Crafting a life you feel passionate about living EVERY DAY.
Dreaming, planning and realizing the trip of a lifetime.
Getting you off the couch and on the plane!
I make things different each day by:
Helping people expand their horizons and challenge themselves.
Empowering my clients to see and own how magnificent they are and how much they have to offer the world.
Removing the language "I wish I could" from my clients' vocabulary.
I have lots of ideas about:
Alternatives to "traditional tourism" such as living, working, volunteering or studying abroad.
Realizing your travel dreams, no matter your budget (financial planning for long-term world travel).
Incorporating adventure and challenge into your everyday life; honoring wanderlust even if you're not able/ready to leave the country yet.
Hitting the road with your kids – making long-term family travel possible.
Making travel more meaningful and rewarding.
"Everyday Sabbaticals"; claiming work/life balance on your own terms
My advice is:
Get in touch with what is really important to you and then TRUST IT. Listen to the "keep you awake at night" values and priorities that you want to guide you and then figure out how to live by them…always.
If a travel sabbatical calls to you, TAKE IT. Put a stake in the ground, decide when and where you want to go and then start making the adjustments you need to make in your lifestyle to prepare for your journey. As Franz Wisner says, "Travel is the only investment with guaranteed returns." If you're ready to take that next step, call me…I'll get you off the couch and on the plane!
"Travel is like love: It cracks you open, and so pushes you over all the walls and low horizons that habits and defensiveness set up." – Pico Iyer
If you would you like to be considered for an upcoming "Innerpreneur Spotlight", please email Tara Joyce.