A Holiday Act in Gratitude of Your Clients
[tweetmeme]
Perhaps this idea inspires you?
For the past two years I've given a monetary gift to charity in gratitude of the client relationships I've cultivated. I sent this festive note to my clients this holiday season: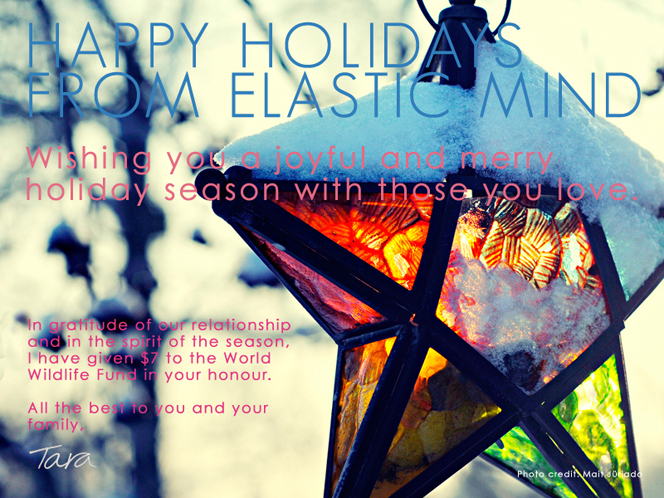 Exploring with the Ghosts of Past, Present and Future

[tweetmeme]
Our past, the present, and our unwritten future
, and what we think of them, they tend to haunt us now and again.
If your ghosts happen to visit this holiday season
(or any time), why not invite them in and explore with them. They have much to teach us when we are open to acknowledging them and adapting to their presence.
Learning From the Past: The Ghost of Who You Were
Whether you're a fan of change or not, you aren't the same person as you were. You've changed. You've grown. Your visions of the past can be one of your chief assets. They can tell you about
Who You Are
now, what you want, what you don't want, what you like and what you don't.
Who You Were
can show you that the good stuff and the bad stuff have helped to shaped you equally. How you remember
Who You Were
is yours to choose. It can be your chain, it can be your springboard, it can be whatever you desire.