Road Trip
I'm leaving in 20 min to fly to LA to spend 3 weeks driving up and down the Baja California peninsula with my husband. I will write again if I can but if I can't, I wish you the best while I take this pause...
Happy Birthday to Me!: November 2010 Innerpreneur Spotlight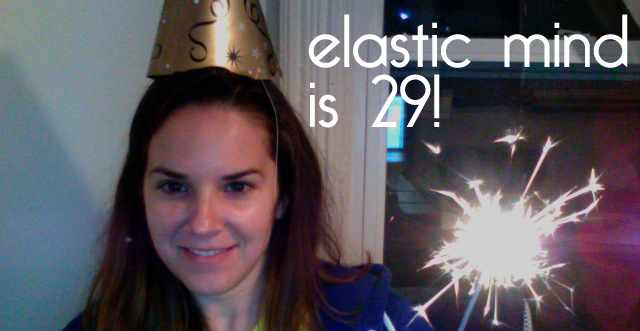 It's my 29th birthday today and in celebration I thought I would shine the Innerpreneur Spotlight on myself.
Tara Joyce Writer, Strategy + Design Coach, Innerpreneur Elastic Mind Follow Tara on Twitter [tweetmeme]
I am:
curious about the world.
I adore exploring culture and how personal development and enterprise creates positive social change.
My passion is for:
passion and meaning.
And what that means to you as a unique individual. And what it could change in your Self and your world if you were to explore it.
My business helps you:
define and design your business identity and create an authentic online experience to support and grow it.
The Doors of Perception
[tweetmeme]
Last week I attended a 3-day coaching training program at Integral Coaching Canada.
I'd never had any coaching training before and I felt it was important for my Self and my business to have my foundations built in a school of knowledge.
There are many coaching schools in Canada, and throughout the world,
but when I learned there was a coaching school based on
Ken Wilbur's Integral Theory
AND run by the
Integral Institute
, AND that it was in Canada, AND 4 hours away in Ottawa, I knew it was the place for me.
Integral Theory encompasses and expands on the Cultural Creative wordview.
It is a holistic model, "a theory of everything" that outlines and explains the perspectives or lens through which every human sees and understands the world.
Mapping the Results of Giving Freely

If I Am Ever Going to Support Something...
Perhaps you've noticed, but I don't really do endorsements here.
I just can't get behind a person, a place or a thing that I haven't experienced directly, and derived value from.
How could I assure you of the value of something or someone I've never actually worked with? I can't. So I won't. And I haven't. This decision is despite 'information' otherwise insinuating that one could grow rich and buy a yacht if only they had some affiliate advertising on their site.
I love money, I do, but my focus is on value.
And I will not support things just because I can profit from them. I am committed to associating with excellence, in every facet of everything I do. I can not ignore the cost to my business of promoting the mediocre, and not really helping people. It is not worth compromising my most prized asset, my integrity.
This is Me Supporting Something... and Why
Two weeks ago,
Mark Dykeman of Thoughtwrestling
offered me a free review copy of
his ebook on mind mapping
.
Business Planning, not Plans

[tweetmeme]
I don't believe in plans. But planning is essential.
Plans
involve making educated assumptions on
what the convenient future could entail for your business
. But why plan for a future that isn't going to happen the way you planned it to? In most instances, people think predicting the future is hogwash, but strangely not when it comes to business.
Planning
involves educating yourself on where you are going, developing a strategy for how you are going to get there, and a vision of what you want to experience along the way. You don't need to predict the future, you just need to know there is a route.
Process, not Product
I've found answering these
10 questions on business planning
is a solid foundation on which to
build a sustainable strategy for growth
.
The Innerpreneur's Guide to Planning Your Business
A. What You're Getting Out of It
1. Why are you starting the business?