The long (at least it has seemed long to me) wait is over! Pay What It's Worth: You Don't Need to Set a Price on Value, my new and first book, is on sale today!
Thank you for your patience and understanding on this journey. As you may know, I wrote this book from 2009 to 2015, as I discovered, explored, and played with the concept of not setting prices. This exploration led me to better understand my perceptions of worth and value, and how I express them in my exchanges and relationships.
I'm very proud to have persevered on my first publishing journey (which is in no way over yet). It has been quite a ride bringing this baby into the world. Copies of the paperback book are currently available only on my website, but soon will be available at major online retailers too. The digital version of the book will also be available for purchase on my website in the coming weeks. I'll be sure to update you when the digital version is available.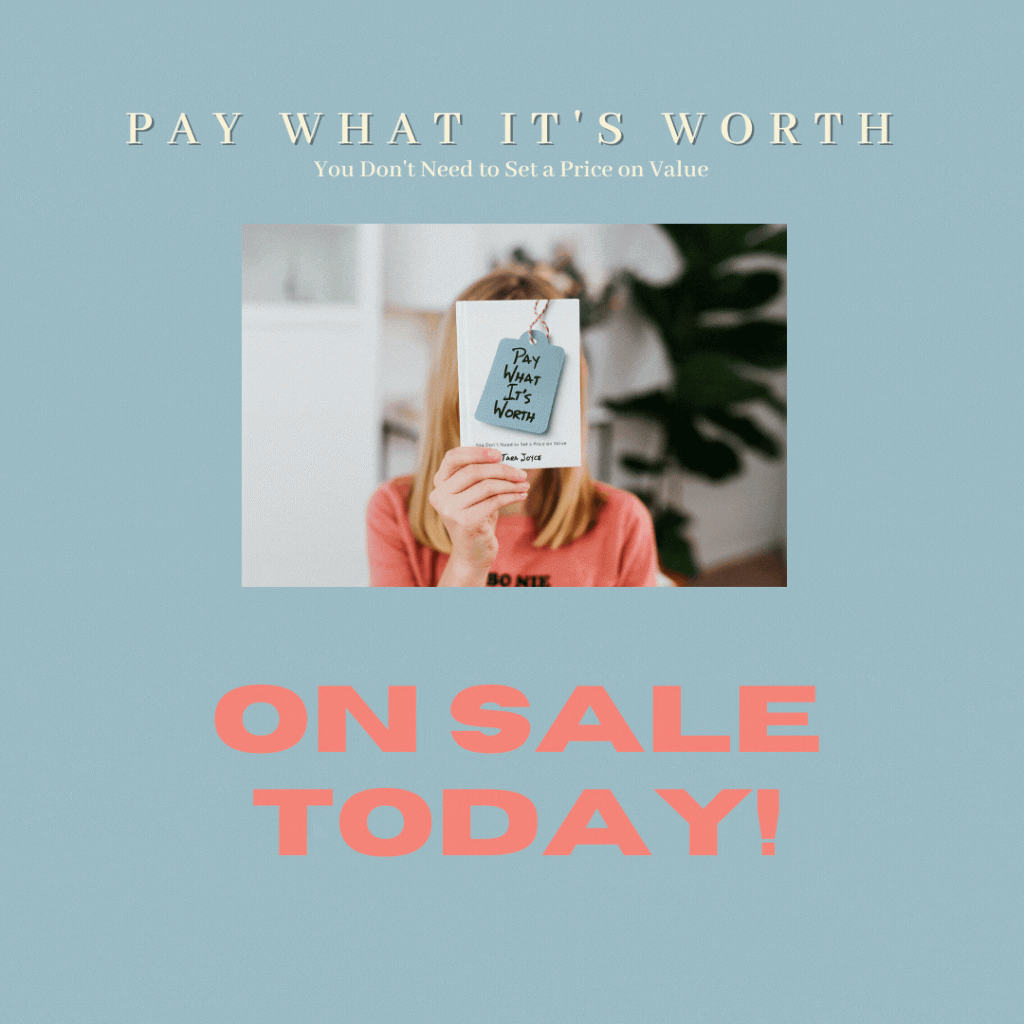 ---
An ask for help
On a related note, in the coming months (nay years?), I will be working to connect with independent book stores and retailers in Canada and globally, in hopes they'll be interested in carrying Pay What It's Worth. While I am happy for the book to be found by readers through major book retail channels (such as Amazon), I very much desire for the book to reach people through more grassroots localized retailers. Beyond these avenues being my preferred way to shop, these small, intimate retailers may also be more open to practicing with pay what it's worth and supporting the book's ethos. Major retailers, however, insist there be a set price for the book and I need to work within their systems. Change takes time and I'm happy to start where I can.
I'm sharing this as I'd like to ask for your help, should you like to provide it. Would you help me connect this book with a small, independent book retailer in your community?
If you're open to this, please email me at tj [at] elasticmind [dot] ca. In exchange for your support and leadership, I'll happily provide you with a complimentary copy of the book, and we can explore from there how I can support you in sharing this book with your local community.
I appreciate your help and support.
---
Thank you for your time and attention, and for your interest in paying what it's worth. You are invaluable to me.
P.S., I know I keep saying I won't be writing in this space anymore but I keep being drawn back to it and I can't deny it. Let's just say for now, I am comfortable not-knowing what I am doing with this space. I hope you can also be okay with this not-knowing.